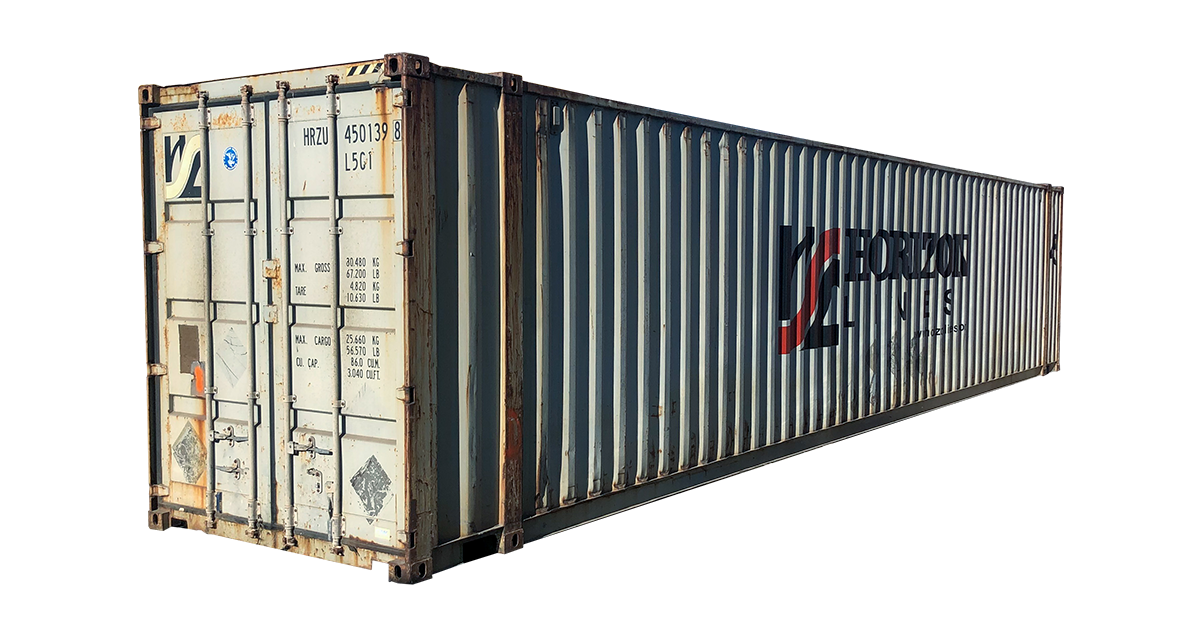 45ft High Cube Cargo Worthy Container
Used for Shipping

Largest Cubic Capacity

Shows Signs of Rust and Dents
Overview
The 45ft High Cube One Trip Container for sale is 9'6″ tall, versus the 8'6″ height of the standard ISO container. The additional post you see on these units is at the 40ft mark, so they can be stacked with 40ft containers. The additional support makes these units a favorite for our container structure and housing clients. These containers are also a great value for their size: a 45ft high cube storage container for sale will bring you 3,043 cu. ft. of safe and secure space. We often have 45ft high cube containers for the same price as 40ft standard units depending on inventory levels. We offer custom modifications on all container sizes including 45ft high cube containers.
The title pretty much says it all. Cargo worthy means just that. The 45ft ISO High Cube Container has been inspected and carries a damage-free certification. If your needs include shipment or there is a chance you may want to ship your container in the future, we recommend purchasing a cargo worthy 45ft ISO High Cube Container. Although this conditional category is a must for shipping we have found these containers insure a higher quality storage or special project unit.
EXTERIOR
INTERIOR
DOOR OPENINGS
WEIGHT / VOLUME
FORK POCKETS

Length: 45'

Width: 8'

Height: 9' 6"

Length: 44' 6"

Width: 7' 7"

Height: 8' 7"

Width: 7' 8"

Height: 8' 6"

Tare: 10,552 lbs

Max Gross: 71,650 lbs

Cubic Cap: 3,040 cu. ft

Height: 0' 4 1/2"
Width: 1' 2 3 /16"
Centres: 6' 9 7/8"
Build Quote
Container Alliance is now offering internet pricing.
Simply select your location, size, condition and door configuration to receive a quote instantly online.
For container rental pricing please call 866-870-3615