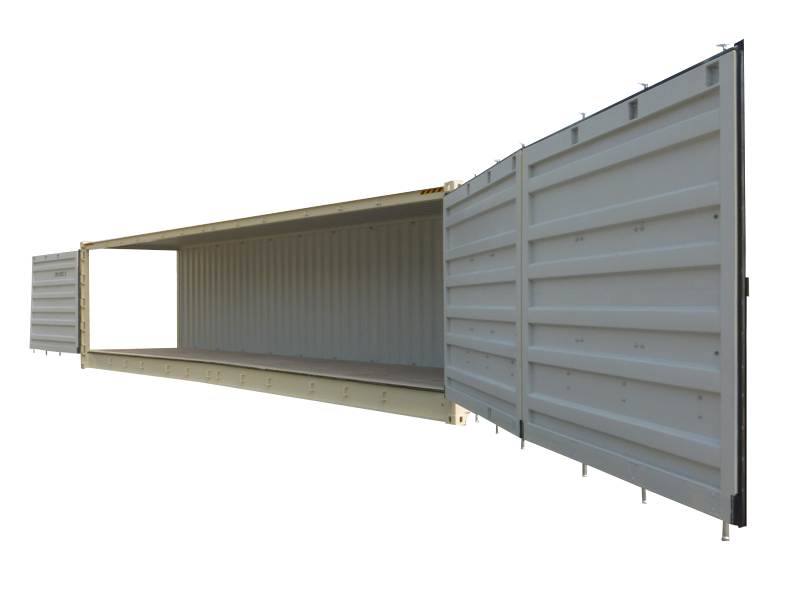 40ft High Cube Open Side One Trip Container
Like New Condition

Full Side Opens Floor to Ceiling

Lock Boxes Included

Eco Friendly Flooring
Overview
One trip containers are manufactured overseas; mainly in Asia and are shipped with a single container cargo load. Once the container reaches its destination they are often available for sale. These containers are an excellent choice because they have not spent time on the ocean or in a container depot / terminals. One trip containers are available worldwide in most port locations. We offer one trip containers in various sizes and door configurations.
40ft high cube open side shipping containers are equipped with a cargo door on one end as well as a side door which opens in sections. These containers are reinforced to allow the entire side wall to open. High Cubes have an extra foot of height, making the container 9ft 6in tall on the exterior. That extra foot of height gives them more volume, space, and shipping capacity. There are a few different door configurations made so please ask us for more information about open side containers. These units are only available in like new or "one trip" condition. Open Side Containers are ideal for uses requiring some sort of display, such as architectural or retail purposes. In addition to the open side, these containers can also be equipped with a variety of different customizations.
EXTERIOR
INTERIOR
DOOR OPENINGS
WEIGHT / VOLUME
FORK POCKETS

Length: 40'

Width: 8'

Height: 9' 6"

Length: 39' 5"

Width: 7' 8"

Height: 8' 10"

Width: 7' 8"

Height: 8' 5"

Tare: 8,600 lbs

Max Gross: 67,200 lbs

Cubic Cap: 2,700 cu. ft

Height: 0' 4 1/2"
Width: 1' 2 3 /16"
Centres: 6' 9 7/8"
Build Quote
Container Alliance is now offering internet pricing.
Simply select your location, size, condition and door configuration to receive a quote instantly online.
For container rental pricing please call 866-870-3615