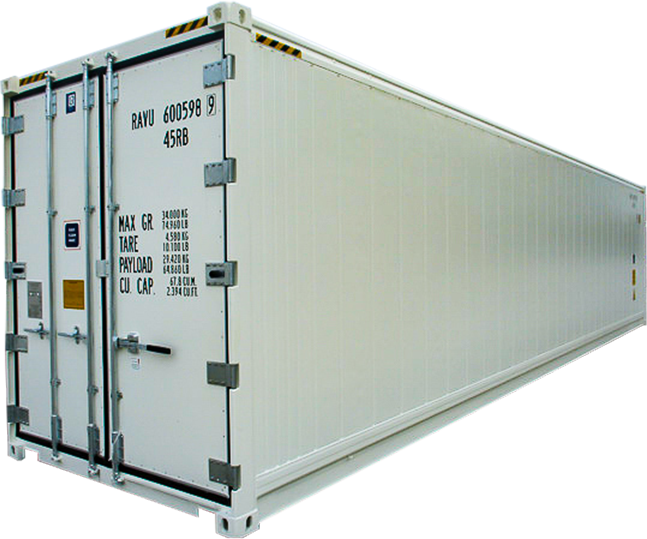 40ft High Cube Refrigerated Container
-Requires Three Phase Power
-Requires Voltage of 440/460V
-Ranges From -20 to 75 Degrees Farenheight
Overview
Container Alliance has 40ft high cube used refrigerated containers to fit your needs. Ask your sales rep today about options regarding units within this category as their are many different types of working refrigerated containers available. We aim to source the correct container for your specific requirements. 40ft high cube refrigerated containers are capable of maintaining a designated temperature range from 75 degrees to negative 20 degrees Fahrenheit. Container Alliance has refrigerated containers, insulated containers and non-working refrigerated containers for sale, from new to used, with various refrigerated machinery options. Refrigerated containers are necessary for countless situations involving maintaining constant cold temperatures, from food storage to chemical supply.
Refrigerated units are available to run on 50 or 60 Hz. The power supply must be grounded and have circuit breakers with a minimum of 30 amps. For power supplies using 208/230 volt, then the circuit breakers must have a minimum of 50 amps. The electrical system supports a voltage variance of (+) or (-) 15%
The unit is delivered with a 460 volt cable and an ISO standard CEE power plug (59 feet/18 meters). The 230 volt cable does not have a power plug. The refrigerated container must be protected from electrical power surges. The unit is equipped with internal circuit breakers in case of power surges. The 460 volts circuit breaker (CB1) trips at 29 amps and the 230 volts circuit breaker (CB2) trips at 50 amps. The unit contains fuses that protect the fan motors and control circuits.
EXTERIOR
INTERIOR
DOOR OPENINGS
WEIGHT / VOLUME
FORK POCKETS

Length: 40'

Width: 8'

Height: 9' 6"

Length: 37' 11"

Width: 7' 6"

Height: 8' 4"

Width: 7' 6"

Height: 8' 4"

Tare: 9,590 lbs

Max Gross: 70,550 lbs

Cubic Cap: 2,380 cu. ft

Height: 0' 4 1/2"
Width: 1' 2 3 /16"
Centres: 6' 9 7/8"
Build Quote
Container Alliance is now offering internet pricing.
Simply select your location, size, condition and door configuration to receive a quote instantly online.
For container rental pricing please call 866-870-3615