Container Alliance provides containers in many grades from AS IS to One Trip.  These containers can be used for storage or shipping depending on condition and documentation.  One thing you may not know is that a container, regardless of condition, must have the condition documented in order for it to be shipped.  This documentation is called a CSC (International Convention for Safe Containers) container survey.  We will survey One Trip, IICL-5, and Cargo Worthy Containers for your shipment and provide this documentation upon request.  If you have questions regarding these differences please visit our web page that explains our container conditions.   Keep in mind condition has very little bearing on cargo worthy certification.  Yes, holes and major rust will not allow the container to pass the test but the containers cosmetic appearance is not a factor.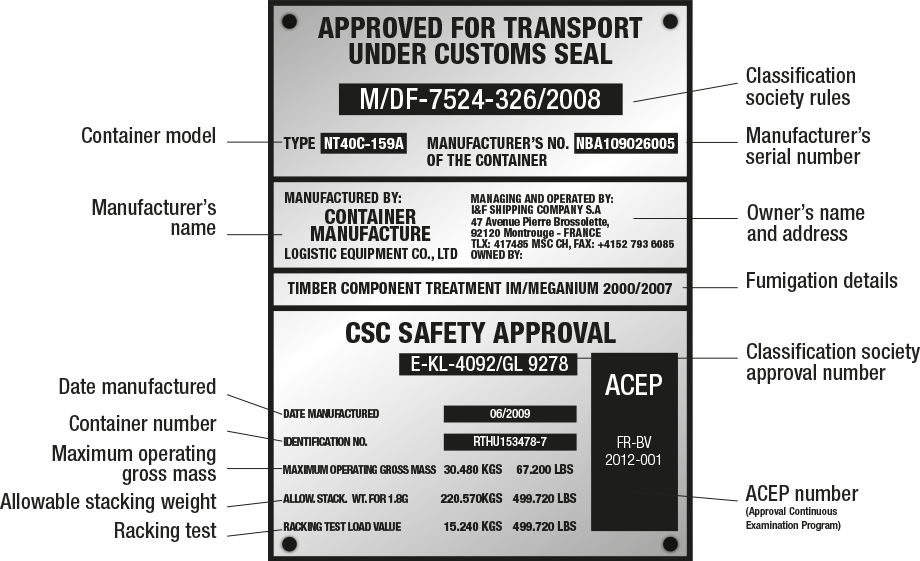 The CSC sets the container quality standards for safe transportation use. A container with a current CSC should live up to its original design capability in terms of stacking, racking, and Payload. The CSC inspection should assure– if done properly –the structural integrity of the container. IICL and Cargo Worthy fulfill similar criterions, but with different levels of scrutiny. An IICL criterion is stricter and the containers are generally better than CW (Cargo Worthy), but for most shipments it won't make a difference.  IICL's most popular use is in providing a bank information regarding the lease-ability of the container for long term.
This quality standard will also insure your container is beyond the seaworthy condition criteria.  How long will the CSC certification last on a shipper owned container? This depends on the quality of container we are surveying.
One Trip Containers - 60 months
IICL-5 Containers - 24 months
Cargo Worthy Containers - 12 months

This does not mean your container can not be used longer. The container may need to be inspected again if you need to use if the survey expires. If you plan on using the storage for years prior to shipping the container you may want to wait on the survey.
It is also important to look into the prefix of the container prior to shipping.  If you are shipping a container as an SOC with a line whose prefix is on the container, it could become an issue.  The line may confuse your shipping being the container number is not valid in the system. The shipping line may also have built triggers that may capture your container once unloaded.  The prefix relates to the owner of the container the serial number is assigned to the container when it is produced and the check digit is a calculation of the owner prefix as it relates to the container number.  

Who is surveying my container?:  Container Alliance will hire a 3rd party inspector with proper credentials to survey your container. We will send you the container documentation for you to provide to the shipping line.  Each container is inspected and documentation can be provided prior to pickup or delivery.
Container Shipping Checklist
Container is in suitable condition to be shipped
Container has a valid CSC certificate
Container plate has been updated to include valid CSC date