In the past, coffee shops have been known to be all about uniformity and representing an average and uninspiring environment. Most coffeehouses were not distinguishable from one another and lacking excitement or appeal, a run-of-the mill establishment. From the wise words of Sam Cooke, "change is gonna come." The coffee may still be mediocre, but in recent years some high profile players such a Starbucks are finding unique and innovative ways to produce high-design cafes. These design initiatives are paving the way for a drastic overall on future stores and gaining attention based on their architecture. These extraordinary structures are creating a buzz not just because of the design, but the functionality and the ease of assembly to create such a landmark. These "portable landmarks" leave people mind blown and create a lot of buzz. Not only are the structures are visually intriguing, but they are also eco-friendly as well. Good design means good business. With a cool factor intact, these innovative structures are a combination of a unique, but classic design, creating the perfect balance. People are constantly evolving and enjoy the idea of things evolving and changing as well. These large metal containersrevolutionized the shipping industry when they were introduced in 1956. According to Smithsonian Magazine, more than 15 billion worth of coffee is exported each year and making it the second most traded commodity in the world. Most of the coffee grows between the Tropics of Cancer and Capricorn, but coffee is mostly consumed in a area best known as The Bean Belt. Coffee has been sent in steel containers and shipped around the world since the 1950s. Now those containers are being used to sell coffee in as well. Very resourceful!
Top Five Container Coffee Shops
In Christchurch, New Zealand, Hummingbird Coffee shop is presented in two repurposed shipping containers.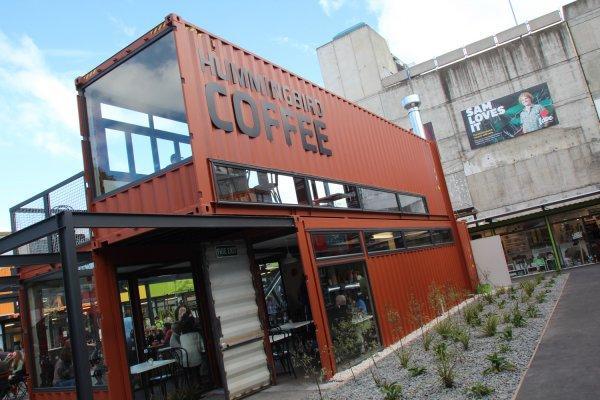 Photo: blog.sfgate.com
Foghound Interactive Coffee Company outside Johannesburg was constructed with used shipping containers.The 3,165-square-foot shop, which includes a showroom for the company's coffee machines. To open the space up, the two containers were modified by adding floor to ceiling glass windows and adding doors.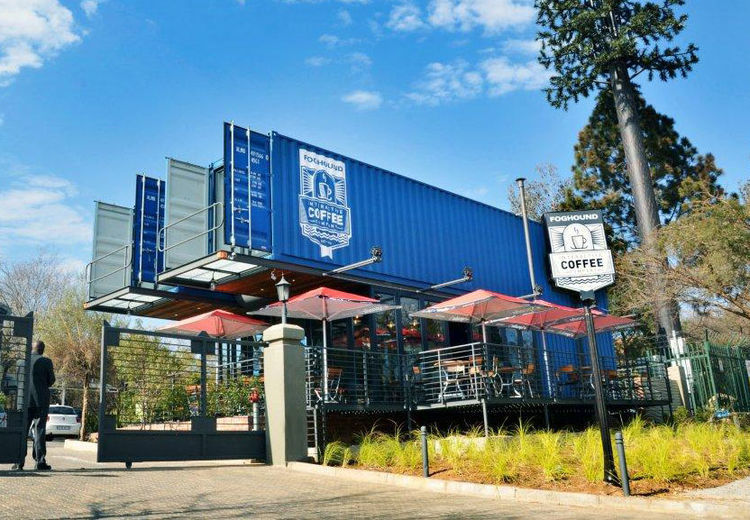 Photo: Dwell.com
Seattle is the home to Starbucks so it is fitting that they would create such a landmark coffee shop. Starbucks created a combination drive-thru and walk-up store made out of shipping containers. "Reclamation drive-thru was inspired by a desire to help keep items used throughout our supply chain, like old shipping containers, out of the waste stream, according to Anthony P., the global store design senior manager of Starbucks. Four shipping containers created a space of 450-square-feet.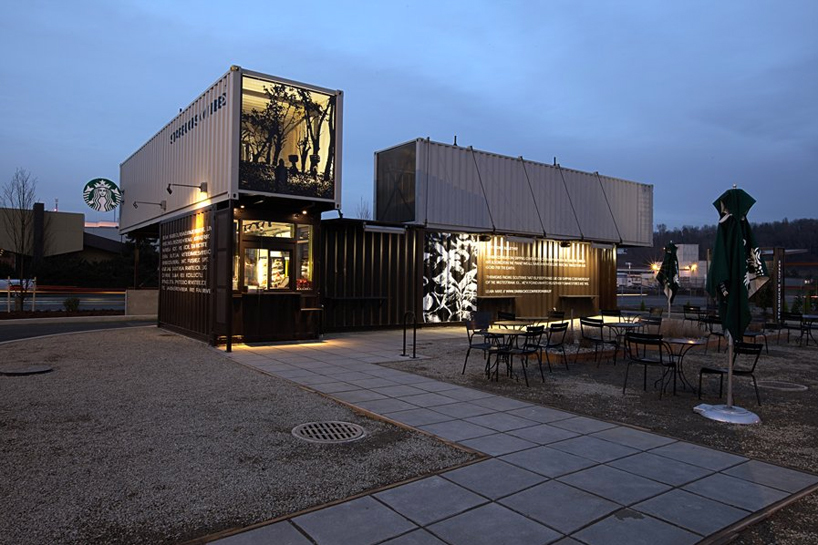 Photo: Designboom.com/ Tom Ackerman
A few years ago, Australia created franchised recycled shipping container coffee shops. The Coffee Club features sustainable green roofs which sprout shrubbery that convert conventional concrete rooms into environmentally friendly structures. According to The Coffee Club Director John Lazarou, the shipping container stores are fantastic for The Coffee Club brand as it broadens the horizon for us to expand into different retail markets that we previously were not involved in."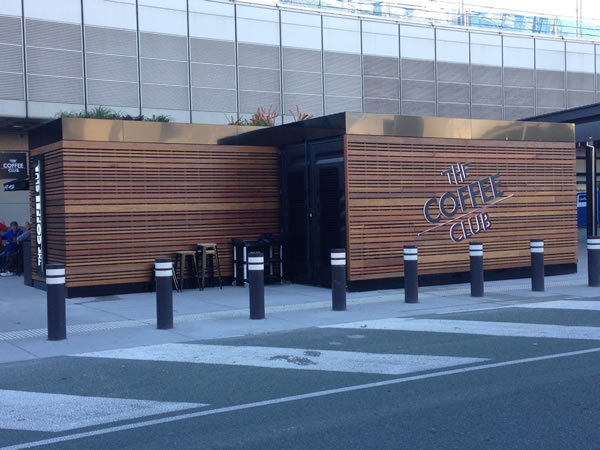 Photo: http://www.moodiereport.com
This mobile coffee shop was a temporary fix but made quite the statement. This container was modified by creating a hydraulically powered system to instantly open in 90 seconds. By the push of a button, this cafe opens up like a flower. When the container is closed, it looks like a normal unrefurbished container and then at the drop of a dime it transforms into a  fully furnished and functional space with a kitchen, dining room, bathroom, bedroom, living room and library.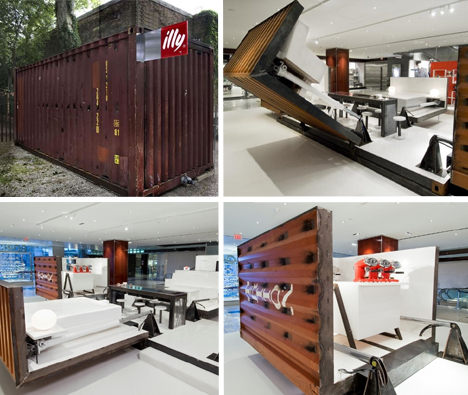 Photos from illy.com