Container alliance offer a very diverse range of customized shipping container modifications for sale.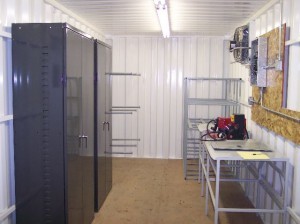 click to get a quote on a modified container for sale.
Before altering any part of a container, Container Alliance 's design team will work with clients through an extensive idea brainstorming and structured design process. This makes sure that the finished product fulfills the client's original vision, and helps us to think through all of the engineering & creative design elements. This turnkey process also allows Container Alliance to lend its knowledge of having modified thousands of containers in the past 7 years, and lend ideas that will help our customers reach their business objectives.
Containers can be modified by adding rollup or man doors as well as by cutting out the shared wall of two containers to make it double wide. Aesthetics can be modified including paint colors or upgraded flooring systems. Usability can be enhanced by adding restrooms for temporary housing, shelving for construction workshops, and even the addition of HVAC for laboratory use.
Furthermore, Container Alliance keeps our clients in the loop as to how the project is coming along compared to original projected timelines that have been set through our  management system. This gives customers a peace of mind and allows them to have some certainty around the whole production process.
The end result is a specialized modified container project that is what the customer originally envisioned, delivered on-schedule, and usually within-budget.
Container Alliance offers the ability to build and enhance a standard ISO Shipping Container Product with a selection of additional shipping container conversion options.
Features can include additional doors of varying type including roll-up, exterior and interior painting, central HVAC or upgraded flooring as well as many other modifications are available upon request.
Here is a list of some of the most popular modification options:
Add Custom Colors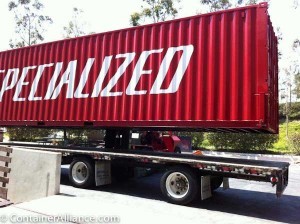 A custom paint job can allow your container to blend in very nicely with its surroundings. We have the capability to paint your container any color you want.  Maybe to represent your corporate brands logo. Depending on your companies property location, maybe you want to color it to match your building or paint it green to blend in with trees and shrubbery.
Install Security Windows
Security windows are a nice option for anyone who spends extended amounts of time inside their containers. modified construction job site offices are good example. Our security windows allow whoever is inside the container to monitor what is happening around them . These windows have bars built in for protection and are an attractive option to allow light into the container and for you to quickly see what's inside without opening the unit.
Rollup Doors Options
Rollup doors are an awesome way to access to your property easily from the side of your container. Container Alliance can install one or more doors or even partitions to serve your specific needs.. Our doors are constructed of high grade aluminum and are fully secure and lockable.
Install Man Doors
Allow your employees easy access to your contents by having us install one or more man doors in the side of the container or  even a partition wall. These are all constructed of heavy duty steel and come equipped with very secure locks.
Add Ventilation Systems
While our containers are equipped with vents suitable for most applications we do offer  upgraded  ventilation modification  for our containers. We can install roof mounted turbine vents or large wall mounted louver vents to increase air flow to satisfy your needs. Call us today 888-896-5084 and speak to sales representatives for more information.
Custom Sizes Available
There are situations sometimes when a standard ISO 10′, 20′ or 40′ container just won't cover all your business  inventory storage needs. We can fix that by making your container longer, double wide, or maybe a combo unit,  Give us call at 888-896-5084 and we can help figure out perfect size for your business needs.
Add A Panic Bar
People have heard of "panic rooms" for homes. Provide some peace of mind and safety for employees by having us install this upgraded feature on your man door. Panic bars can be connected to your container's man doors and help to prevent that no one will ever end up locked inside your storage unit.
On Site Office Containers
One of our most popular modifications is our on site office containers. Easy ground level access make these units a favorite for countless industries. Each container can come modified with air conditioning, electric heat, electrical outlets, filing cabinets, desks and a planning table.
The industry applications for repurposing Shipping Containers is endless.
Call US For A Quote (888) 896-5084 or Simply fill out our quote Form