The Ventura County fair is happening right now, time to enjoy "a country fair with ocean air." Get outside and spend some quality time with the family while summer is still here. Time to enjoy some hot dogs, cotton candy, and all the fried foods your heart can handle. It all about indulging in our guilty pleasures. Hop on a ride or two and then relax while you listen to the the sweet sounds of some musical legends such as UB40, Styx, Third Eye Blind, America, Patti LaBelle, and Joan Jett and the Blackhearts.
Shipping containers are not just being limited to traditional storage, the sky's the limit on the various applications of containers. There is such a wide-variety of modification that can be done to shipping containers, they're now being seen as both economical and trendy. In case of a tight footprint, they can be stacked on top of each other and there are various size options available. They can easily be moved from one location to the next with a standard truck. Shipping containers can be used to serve food, buy tickets, play games, perform, and can even be used for demonstrations. Containers can also be transformed into a locker room or event storage to store items such as strollers, infant supplies, children's items, jackets, big bags, extra food and water.
With such a diverse lineup of artists, This Grandstand Arena Concert series will feature something for everyone: Country, Hispanic, Rock, R&B, and more. You and your family and friends will be grooving and moving all night long. If concert organizers don't have time or budget to prepare a concert stage, a shipping container can be turned into a mobile stage as an affordable alternative. No need for them to rent concert halls or arenas in order to perform for the audience. Shipping containers have been used previously as a stage. Mobile stages are perfect because of their flexibility, mobility, and affordability. Fairs are constantly on the road, shipping container can easily be modified and transported to new venues as practical, secure, and cost effective solution. For example, Savioz Fabrizzi Architects turned unused shipping container into a concert hall. The containers are placed in an existing building creating the framework for a concert hall that includes a lounge, ticket desk, bar, rehearsal room, and other spaces.

Photo: Inhabitat
Shipping containers can be transformed into a concession stand that will attract attention and draw people in. Perfect for game booths, food and drink stands, and merchandise stands. A 10ft container can be modified in to a game booth by adding flip-up windows, track lighting, and outlets. The large windows are great for games like darts, ring toss, and the milk bottle throw. The 10ft container leaves a small footprint and an even small price tag which is ideal for tight budgets. Paint the container the color of your choice to ensure that your unit is eye-catching. Offer some cool prizes for those who win and you are all set to go!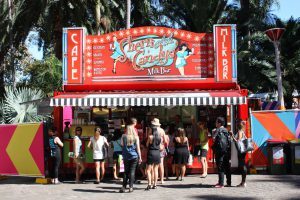 Photo: Sydney-City
Sherri & Candy's Milk Bar at the Sydney Festival was built from a shipping container and capture the attention of the festival goers with its eye-catching display. The shipping container was decked out in true retro milk bar style like it was pulled straight out of the 1950s.
The Eco Container
Every year we are inspired and impressed by thousands of great exhibits that are on display in Agriculture, Amateur Art, Floriculture, Gems & Minerals, Hobbies & Collections, Home Arts, Horse Shows, Large Livestock, Photography, Professional Art, and Small Livestock. People enjoy hands on demonstrations and interactive exhibits, especially if they are family oriented and have a positive impact on both our children and our planet Earth. Going to a fair can be a fun and educational experience.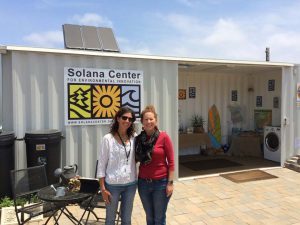 Photo: The Coast News
Container Alliance help create a "Eco Container" for the San Diego County Fair and it had a lesson to teach. The container was sponsored by Kashi and was revealed on opening day, June 3. The Solana Center's Eco Container was created using one of Container Alliance's high quality 40ft containers. The container was transformed into a center for environmental innovation, featuring solar energy, a grey water demo system, rain barrels, composting, drought tolerant landscaping and California-friendly gardens. The container is filled with a variety interactive exhibits and demonstrations of environmentally sustainable practices. The creators of the Eco Container say "it is designed to educate and inspire visitors about sustainability, and demonstrates how to incorporate energy-saving, water-efficient and eco-friendly practices into our daily lives." The container was installed with solar panels on its roof that powered a cooling fan on the inside and an interpretive solar exhibit. It is time to stop sending things to the landfill, time to think about the choices we make no matter how small because they can make big impact on the world.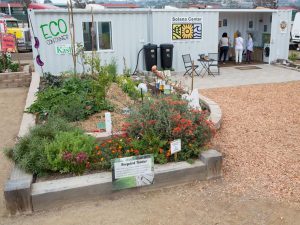 Photo: Seaside Courier
Container Alliance can help you find a solution! We have containers in various sizes and conditions available. Let us help you find the right solution for your needs. For more information, give Container Alliance a call at (800) 386-2345 or fill out a quick quote form.