It is that time of year again, Fiesta is here! Santa Barbara is a desirable location because of the beautiful weather and nice beaches. In 1924, the general feeling amongst the business people of Santa Barbara was that there should be an annual summer event that attracts and entertains visitors and locals. Santa Barbarans are proud of their city's heritage from Spanish founders. It is time to celebrate the rich heritage from the Spanish, Mexican, and North American pioneers who first settled here and established the city. The tradition of colorful music, dance, and song together with a spirit of friendliness, hospitality and tolerance are part of this heritage which the Fiesta "Old Spanish Days In Santa Barbara" seeks to preserve and perpetuate. The Old Spanish Days is a blast from the past, locals and visitors can experience the history, traditions, and customs of the early settlers. You can teach kids about the rich history of our city by taking part in the various events happening around town. They will get a look into the past and get to experience the rich culture Santa Barbara has to offer. Enjoy live international performances, a rodeo, parades, and much more entertainment! The spirit of old Santa Barbara shall live on!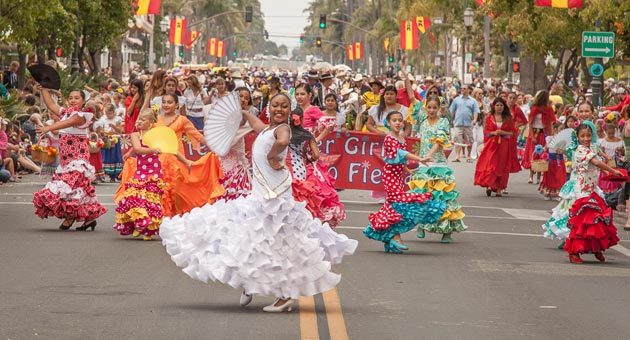 El Mercado
The El Mercado is known in Mexico and Spain as the "the marketplace," the center of the village and city life. Before 1924, booths were set up all over the city where merchandise was sold and food and entertainment were provided. The centers were a marketplace for fiesta. The tradition has carried on over the years and is now a part of Old Spanish Days. The form of the booths has been updated over the years, not only for convenience but also to meet city health and safety ordinances. Many booths are sponsored by local charitable organizations with the fund supporting their programs.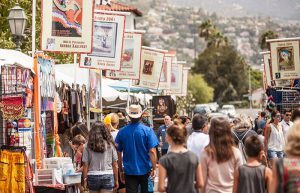 Rodeo (Vaqueros)
The 'Fiesta Stock Horse Show' started as a one-day Saturday afternoon event in 1924 at the old Pershing Park arena on Castillo Street. The Fiesta Rodeo is one of the more popular events and runs for four days. The main endeavor of this portion of Fiesta is to bring cowboys and cowgirls from the local ranches in the Tri-Counties to town for excitement and competition.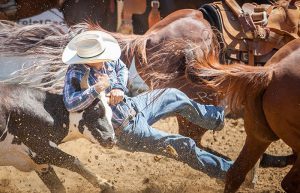 Shipping Containers at Fiesta
Shipping containers are fast, affordable, mobile, and flexible. The sky's the limit when it comes to the various container applications. They are ideal for rodeos, fairs, and festivals. Shipping container are the most versatile and affordable option and can be used for general storage and office space. Containers are not only great for extra storage space but can easily be converted into concession stands, game booths, a family lounge, locker area, ticket booths, portable bathrooms, and merchandise booths. There are an infinite number of modifications that can be done to optimize a variety of your needs. Container Alliance can retrofit your container with insulation, interiors, electrical, air conditioning, doors, and windows.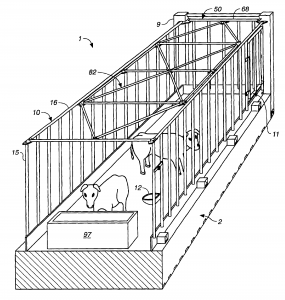 Transporting Livestock
With the Rodeo coming to Santa Barbara, the livestock will have to make their way to town as well. If your livestock will be in tow, easily transform a shipping container into a mobile stall. The strength and durability of containers makes them easily transported by flatbed truck or by train. The modular design makes placement and load up easier. A few custom cut-outs need to be installed before your container can be used for this purpose.
Meet Up/Lounge Area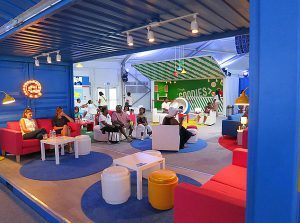 Fairs and festivals are becoming more family oriented and promote a family-friendly environment. Shipping containers are a great way to create a "chill zone" where people can meet up, relax, and talk. Shipping containers can create a welcoming area for families and young children. Families with young children can rest and have a snack. A container can be customized to provide baby-changing facilities and a pleasant environment for nursing babies.
Storage and Offices
Shipping containers provide a high level of security. Our shipping container offices are mobile and perfect for on-site management. Our container offices could also serve as an employee area, a break room, medical center, and small police headquarters. Our container offices are also great for ticket sales and admin offices.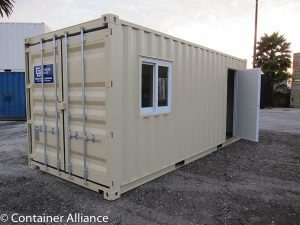 Concession Stands
A mobile concession stand is perfect because of the flexibility and the mobility of shipping containers. Container concession stands are eye-catching and flexible in their design with an infinite number of modifications that can be done. They are far less expensive when compared to constructing a new building. A container can be optimized for a variety of needs, whether you are looking to serve hot food, tickets, or merchandise. Your container can be customized to match the needs of your business or product. We can provide finished interiors and dual windows for those games that bring in a big crowd. Container Alliance can add insulation, air conditioning, doors, electrical, drywall paneling, and more. We can help create an eye-catching concession stand by customizing the exterior of your container and making it distinctively different than your competitors. Container Alliance can paint your container to match your product or logo, decals can be added as well for branding. Whether you want a basic and cost effective design, or a more of chic and luxurious space, our quality containers are fully customizable and offer an exceptional value at any price point. Simply, drop the container in place, open the doors, and you are all ready to go! You can now have the flexibility to meet the needs of your customers!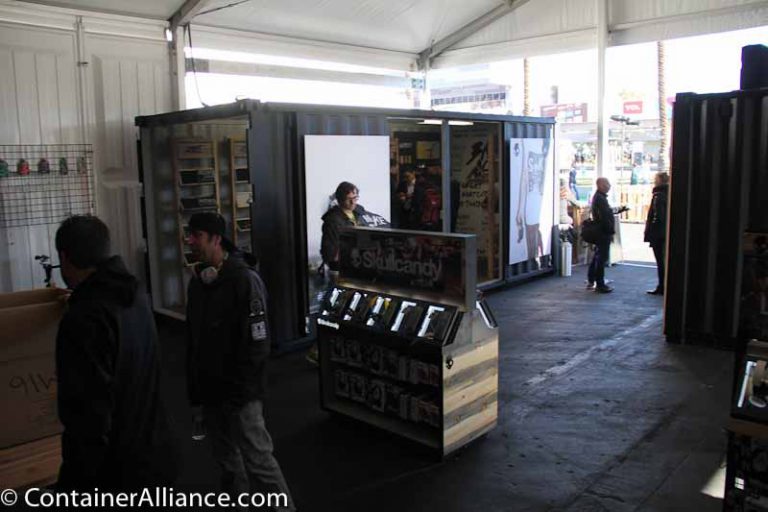 Container Alliance wants to help you find the right storage solution to fit the needs of your business and your budget. Give us a call today at (800) 386-2345 and speak with one of our knowledgable sales reps or fill out a quick quote form.