The Boy Scouts of America's motto is "leave no trace," Gensler embraced this motto when he built an eco-friendly cabin for Camp Emerald Bay on Catalina Island. The organization wanted to minimize the environmental impact of the renovation of the Army-style bunkers. Gensler is trying to transform the 85-year old campsite into a year-round outdoor educational center with a total of twenty off-grid cabins. Gensler used his knowledge of sustainable design principles and renewable energy along with two 20 ft shipping containers to create the cabin.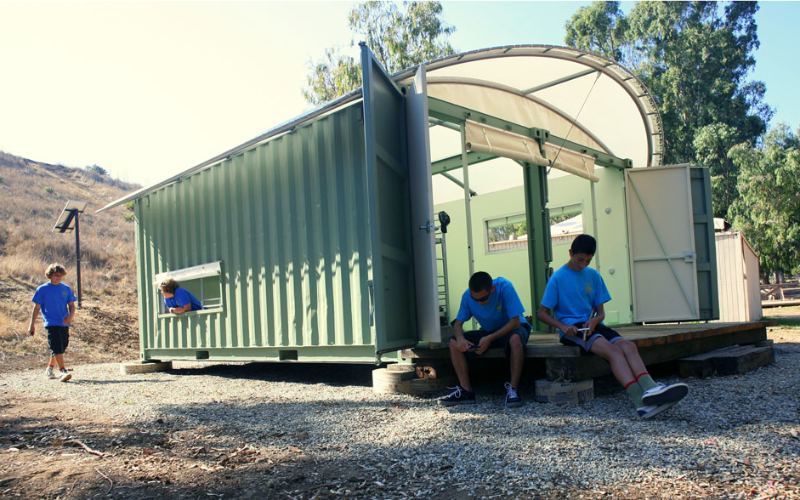 Photo: Inhabitat
The two shipping containers were insulated and a sheer, stretched fiberglass roof was added. The container floors are made of durable rubber flooring and the wood deck was reclaimed from a pier on site. The containers were retrofitted with LED lighting and solar photovoltaics. The LED lighting is operated by a solar system and offers the scouts light at night. The other building materials were shipped in the containers and assembled by the boy scouts themselves. This is a great project for a group of boy scouts who are learning about survival and sustainability. The architect, Richard Hammond felt that the shipping containers were the perfect building material for the eco-cabins because they are easy to modify, Hammond explains, "What we liked about containers we kept, what we didn't like we changed." Shipping containers are a desirable building material because of their affordability, availability, and eco-friendly nature. Gensler is teaching children how to recycle by using unused materials to help reduce the amount of waste on our planet. The cabins are fun and stylish and a great learning to tool for the scouts.
Container Alliance is your leading source for containers and an industry standout when it comes to container modifications. We have extensive experience in basic modifications, along with high-end special projects, and can cater to essentially any need that might come up with regards to custom containers. We can provide the customer answers to any questions they may have in their search for the right container solution. Container Alliance has years of experience in container modifications and is reflected in the high quality of custom containers.
Contact Us
For more information, contact Container Alliance at (800) 386-2345 to speak with our knowledgeable and experienced representatives today or fill out a quick form and we will get back to you shortly.