Happy 4th of July weekend from the team at Container Alliance! It is that time of year where people proudly display their American flags high in the sky and chomp down on some American classics like hot dogs, ice cream, and even a fried Twinkie. What better way to celebrate the holiday than a fireworks show since fireworks are undoubtedly awesome. Who doesn't love a good bottle rocket or some sparklers. Fourth of July is the time when we can sit in awe and enjoy time with our family and friends. When the sun goes down, is not the only time we can appreciate a good firework display. As you drive along dry, desolate parts of the highway, you will notice an abundance of firework stands. Container Alliance can create a custom shipping container fireworks stand that fits the needs of your business and deliver right to your location!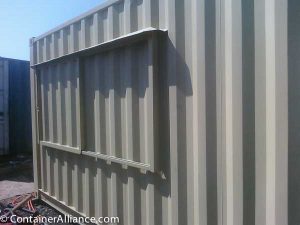 Looking for a waterproof storage solution for your fireworks? Our containers are durable, affordable, and customizable. Shipping containers are built solidly and are designed to withstand unpredictable weather conditions. Container Alliance can help you find a customized solution to match your unique needs. We want you to be ready for Independence Day and have an eye-catching display stand just like the fireworks you are selling.
A 40ft container is one of the many options that could be used as fireworks stand. Container Alliance can modify the container to include custom windows that serve as customer service windows for transactions.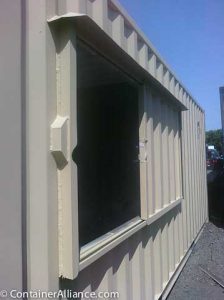 Want us to create fireworks stand for your business? Fill out a quote form or give Container Alliance a call at (800) 386-2345 and speak with one of our knowledgeable sales rep. We can help you find the right solution that fits your needs.