Container Alliance modified a 40ft High Cube ISO shipping container to house a water filtration system. The container will hold a system that converts seawater, brackish, or surface water into pure and safe drinking water.

Container Alliance modified the container by adding custom paint, panel insulation, along with an entry door for general purposes. Container Alliance also modified the container so that their water filtration system could easily be installed in the designated areas. Equipment/piping supports are added throughout the container to accommodate their equipment, along with external ports for primary power and simple wet connections.
Container Alliance custom painted the outside of the container with heavy duty yellow paint and added the Parker logo to the side. The inside of the container was framed and insulated with water resistant internal sheathing. A rack mount system for housing and mounting equipment was installed flush mounted into the panel insulation. All of the components that make up the Parker Water filtration system can easily be installed to meet the unique water treatment requirements. This water-tight, durable container is ready to be shipped anywhere that temporary or emergency potable water is needed. This container is ready to be used in remote locations in response to emergency situations and can easily be relocated when needed.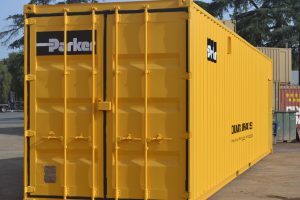 Contact Us
At Container Alliance, we worked with customers on a daily basis to help find the perfect container solution that fits the needs of their business. In addition to modifying shipping containers with alternative flooring, door configurations, windows, ventilation, and electrical options, we also sell shipping containers in various sizes ranging from 10ft-45ft high cube. Contact us today (800) 386-2345 to speak with one of our knowledgable service representatives or get an online quote now!