Justin's Vineyard and Winery covers a vast 160 acres in Paso Robles, CA, the company's mission was to create some of the finest wines in the world. They sought out to create world-class wines that exhibit great structure, balance, and taste. They combine Old World methods with modern technology. Love is put into each bottle because their winemakers sort the grapes and decide what goes into each and every bottle. The grapes have an intense flavor because the soil of Paso Robles is enriched with limestone. Justin's have created a wine experience unlike any other and have redesigned and upgraded their tasting room, restaurant, and the JUST Inn.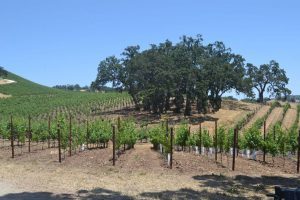 Justin's Vineyard and Winery has expanded both their knowledge of the viticulture business as well as their acreage. With the expansion of both their business as well as their vineyard, more space was definitely needed for storage. They needed more room to store overstock merchandise for their store as well as wine glasses, tablecloths, and other restaurant supplies.
Container Alliance helped Justin's Vineyard and Winery find a great storage solution that fit the needs of their growing business. Container Alliance supplied two shipping containers, a 20ft high cube and a 40ft high cube. The containers were placed in a row and discreetly placed behind a building. They are easy accessible but are not an eyesore or a distraction to the beautiful scenery. They are able to have their supplies readily available on-site instead of at a remote location.