Our client, Solana Center bought a 40ft high cube container from Container Alliance. We added two dual pane windows, an electrical package with LED lighting, a steel sliding door, with a lockbox, and two skylights. Container Alliance painted the interior and exterior white for a clean and fresh look.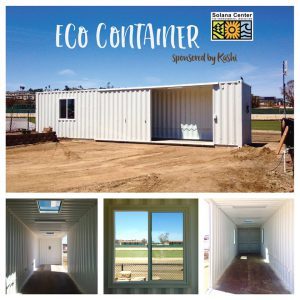 The goal in mind was to create an "Eco Container" that would be displayed at the San Diego's County Fair. The fair wanted to promote environmentally friendly measures and reduce the waste. It is time to stop sending things to the landfill! The goal of the Eco Container is to educate people about environmental sustainability. Solana Center partnered with Kashi to provide environmental education, composting, gardening, watershed protection, pollution prevention, and sustainable living programs throughout the region.
Photo: San Diego Union Tribune
The container is filled with various interactive exhibits and demonstrations of environmentally sustainable practices, including the center's popular rain barrels, grey water landscaping, and composting programs. The container is designed to educate and inspire visitors about sustainability. The Eco Container demonstrates how to incorporate energy-saving, water-efficient and eco-friendly practices into our daily lives.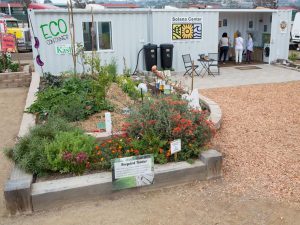 Photo: Encinitas Advocate
"The point we are trying to get across with the Eco Container is that the choices we make and all the little things that are done by a lot of people can add up to a big impact," Solana Center spokeswoman Jamie Higgins said. "That is very empowering."