Container Alliance is excited to put the customer spotlight on The Nook in downtown Santa Barbara located at 116 Santa Barbara St. Funk Zone, Santa Barbara CA. Foodies and beer lovers come on over! The Waterline redevelopment transformed an old 2,000 s.f. industrial warehouse property into a diverse location where local artisan and skilled craftspeople can display their talent, as well as a destination for food, beer, and wine. A space where the vibrant community can come together and enjoy the Funk Zone experience. Come to the Nook and enjoy delectable creations from legendary chef Norbert Schultz. They envisioned a place where excellent food, wine, and beer could all meet under one roof. The Nook and Lama Dog have created a unique shared space where craft beer, wine, and good food can be enjoyed in a fun and exciting environment. A space of cultural relevance means that spaces, not objects create a framework necessary to influence human behavior.
Photo: Santa Barbara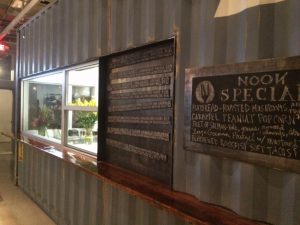 Photo: Kevin Moore
Getting back to the roots of the old warehouse, the exterior walls of the kitchen were retrofitted with pieces of one of our shipping containers. The innovative shipping container wall enhances the authentic structure of the industrial building by adding texture and color. The soft blue of the shipping container creates a color pop that draws your eyes in as a focal point of the restaurant. The color helps to enhance the old warehouse architecture and creates a trendy and modern look.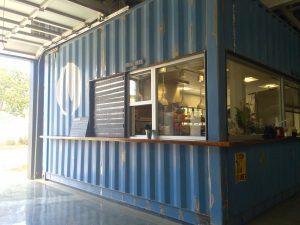 Photo: Kevin Moore
The shipping container wall creates an authentic and dynamic experience. Authenticity is added with subtle details such as using shipping container pieces in the outside overhangs,  framing parts of the restaurant with container pieces, and adding authentic sticker decals to the shipping container wall.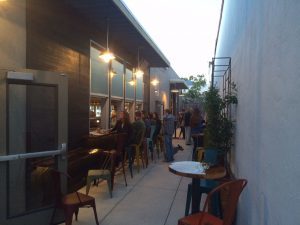 Photo: Kevin Moore
Locals and tourists will be able to enjoy the beautiful weather year round in their indoor/outdoor bar and dining area. This is a place where old and new stories can come to life. The Nook is a space where people can feel comfortable and enjoy both the environment along with the great food and drinks.
Contact Us
Let us help you find the right container solution! Our knowledgeable sales representatives understand the each project is unique with specific needs, we'll take the time to work with you and help you find a container that best suit your needs. Give us a call at (800) 386-2345 or fill out a quick quote form for more information.