"Provider of new and used shipping containers utilizes its network to provide best pricing in national container industry …"
The Container Alliance is a nationwide network of storage container providers who have banded together to meet the requirements of customers who want to buy shipping containers or find storage containers for rent. Customers benefit from the experience, knowledge and geographic locations of Alliance members. A group of this size is also able to provide the best pricing in the national container industry to its customers.
One example of this benefit is the new lower pricing on 20 foot one-trip containers which was recently unveiled by the Container Alliance.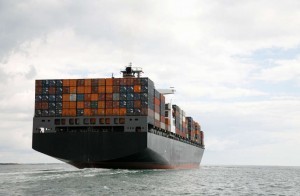 One trip containers are manufactured overseas, usually in Asia, with the intention of being shipped with a single container cargo load. Once the containers reaches their destination they are often made available as used shipping containers for sale. These containers are an excellent choice because they have not spent time deteriorating on the ocean or in container depots, warehouses, or terminals. They have not been handled as many times, so they don't have the dents, dings and surface rust often seen with the "as is" containers sometimes available. One trip containers are often referred to as "new" or in "like new" condition since they have only made one trip across the ocean.
The main advantage of buying these used shipping containers is that you don't have to deal with the maintenance needs and aesthetics of other used containers. They have to be strong to endure the ocean passage and are often made of COR-TEN® Steel. COR-TEN® is a type of weathering steel produced by US Steel that uses alloying elements such as copper, silicon, chromium, and nickel to enhance the steel's atmospheric corrosion resistance. The addition of these elements results in a high-strength steel that typically exhibits a 50 ksi minimum yield strength. Because of its inherent toughness, weathering steel is used extensively for ISO shipping containers.
One trip containers are manufactured and painted in a controlled environment using multiple layer paint application, which provides distinct advantages over the typical container "refurbishment." Refurbished containers often have rust problems under the paint; they are often deteriorated steel containers with the rust simply painted over. One trip containers look exactly like what they are, "new containers." They are not painted bright colors with a shipping label or company advertisement on them, and typically do not need to be repainted.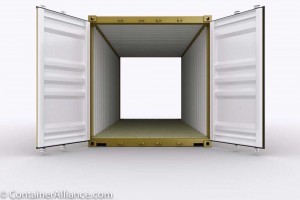 In 2012 Container Alliance started a new program bringing in one trip 20' containers, one trip 40' containers and one trip 40' high cube containers with doors on both ends. Double door one trip containers are built under ISO specifications. The only difference is that the front end wall and corner castings and pillars have been replaced with an additional cargo door with standard ISO security locking bars, element and rodent proof seals, and easy-to-use handling gear.
Double door one trip containers are more accessible with access from both sides. You can reach more items with ease and create a more flexible and efficient storage solution. If you need storage container rental, consider this option so you won't have to worry about what you will store first. With double doors, the back can become the front and the front can become the back.
Container Alliance has access to a variety of shipping container sizes and types through its national network. If you are looking for a shipping container for sale, find out if our new lower pricing of 20 foot one trip containers is right for you.
About Container Alliance– Container Alliance has an expansive network of providers across the United States. Whether it's finding a shipping container for sale or securing a storage container rental, Container Alliance has creative storage solutions that help customers avoid unnecessary expenses. If you are looking for a company that can provide everything from a high cube container or a Conex container to insulated shipping containers, consider utilizing the services of ContainerAlliance.com. Visit the website and Facebook page or call 888-896-5084 for a complimentary one hour consultation or a free copy of "The Top 10 Reasons Customers Choose Container Alliance."