You have just ordered your dream container and now you are just waiting for it to be delivered. Finding the right container is one thing, delivering the container is the whole another story. Many people wonder how exactly 6,000-8,000 pounds of steel gets delivered. At Container Alliance, we strive to not only to deliver you a high-quality shipping container but as well as high-quality service. Safety is our priority and we want to reflect that in everything we do at Container Alliance, including delivery. If you have doubts about the spot where your container is going to be placed, we will assess your site for you via photos or in person. At Container Alliance, we often get asked on an about our delivery process. Hopefully, this article clears up any kind of confusion when it comes to the drop off process of our containers. First, we have to make sure that the location where the container is going to be placed has enough room in a straight line for our trucks to back in and drop the container off. Adequate clearance and width are required, but the amount of length is typically the issue that tends to be a problem at delivery.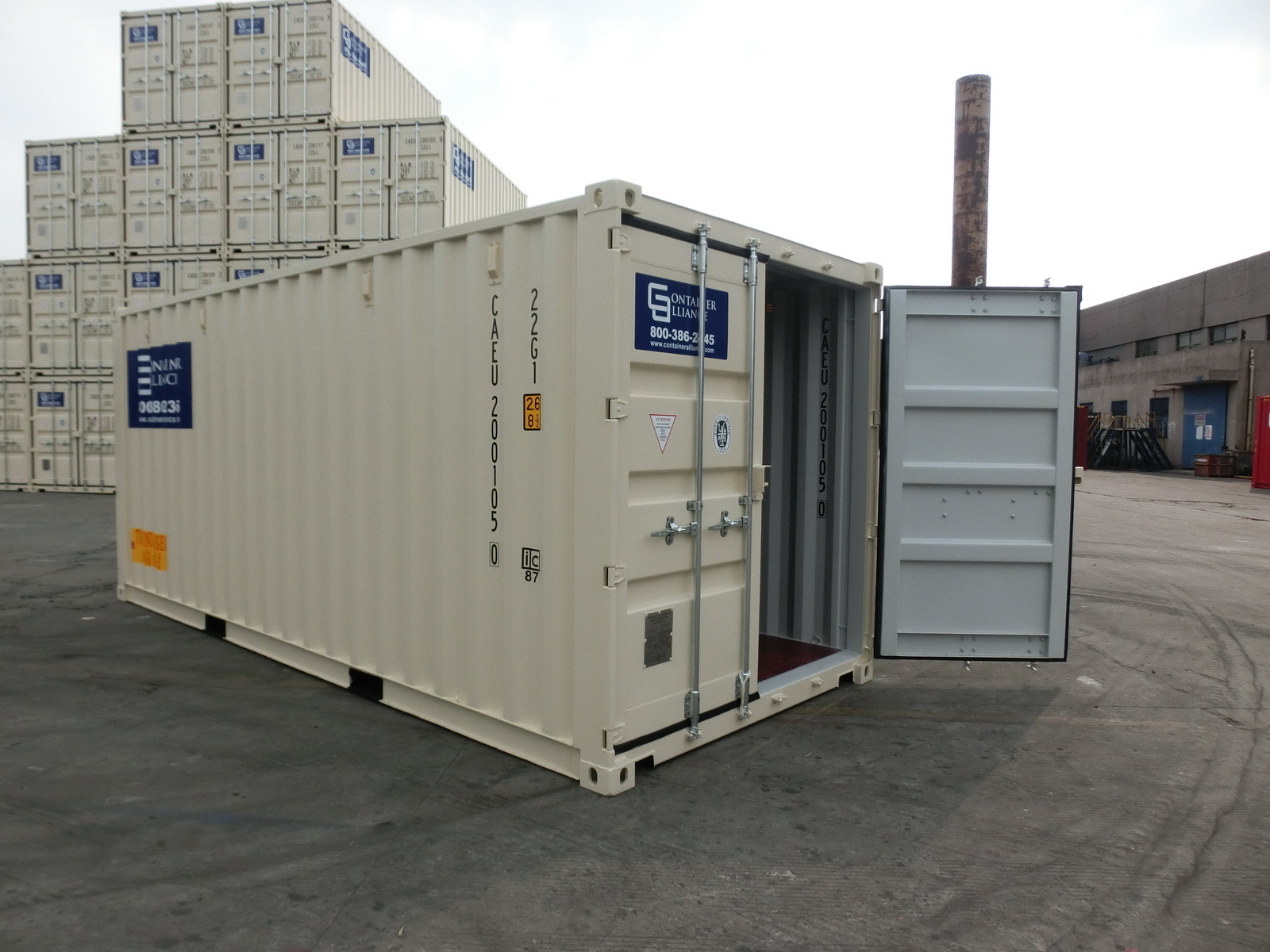 Tilt Bed Delivery
This is our most common type of container delivery, we bring the container to your desired location and set it down for you without any extra equipment necessary. The driver will back the truck up to the area where you want the container and set it down using the tilt-bed part of the truck. Ideally, the ground should be firm and as flat as possible. One important thing to remember is that it is necessary to have enough room for the total length of the truck and enough space for the truck to get out of the spot. Remember, the truck will not be able to turn at all. As a general rule of thumb, you will need twice the length of the containers plus 20' in a straight line to deliver the container with a standard tilt bed. Thus, for a 20' container you need 60'-100' in a straight line and for 40' container, 100'- 120′ in a straight line is required.The width of the space should be at least 10'-12' wide to accommodate the 8' wide containers. The delivery site needs to allow for 15' of overhead clearance to accommodate the container on top of the tilt bed truck or trailer. The area should be clearly accessible and free of any overhead trees or wire that might interfere. Also, make sure the ground is flat and firm.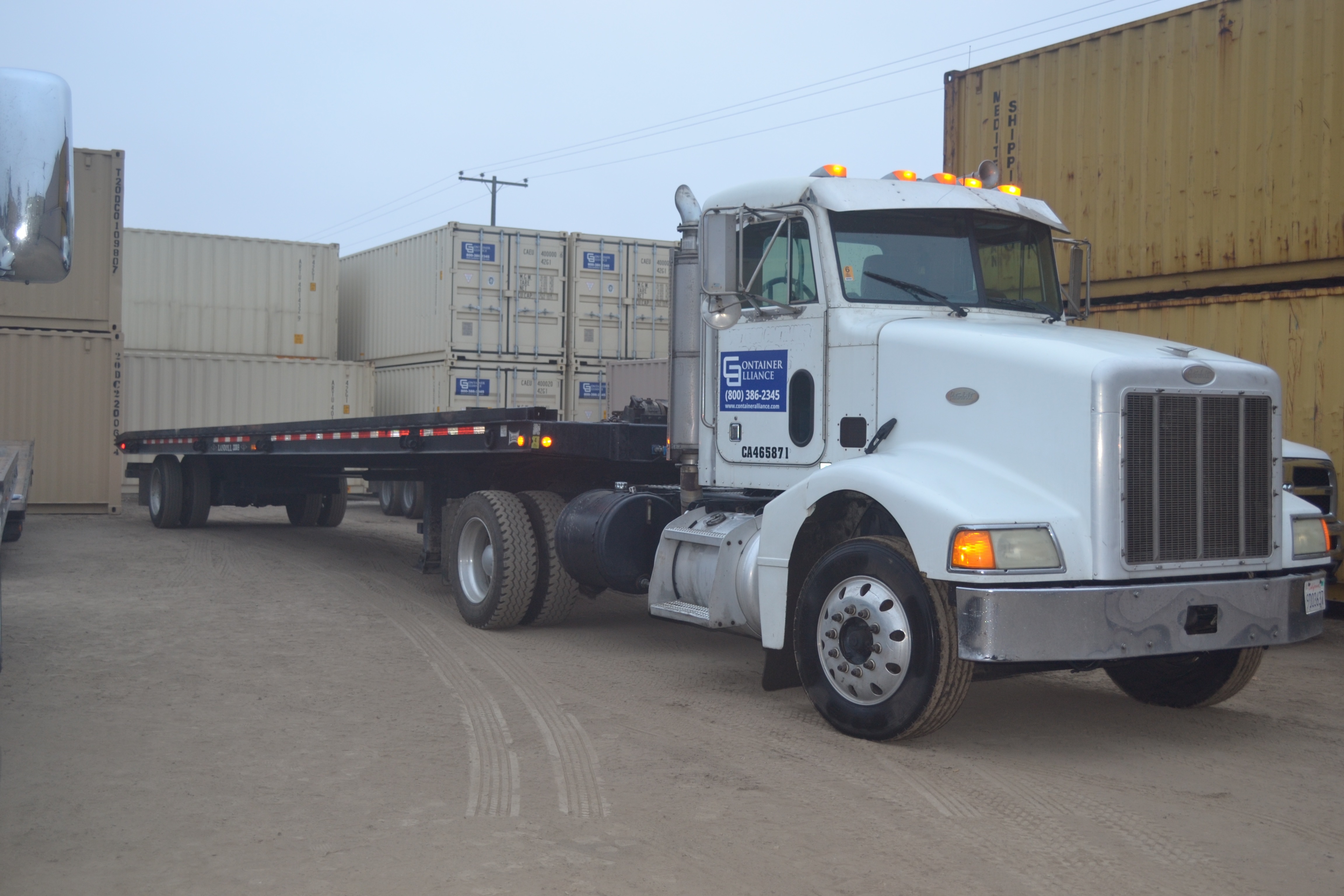 Delivery Process
Deliveries typically take place between 7am-5pm, Monday to Friday. We occasionally offer weekend deliveries for an extra cost. Your container will usually arrive about 3-7 business days after the order is made. One of our sales reps will help guide you through the delivery process and inform you about the site specifications. Logistics will ensure that the container is scheduled for delivery and will provide the customer with a date and time for drop-off.
A container delivery typically takes 30 minutes to an hour to lift and position your container. Make sure your site is ready to go prior to delivery. Drivers may not be able to drive over grass or muddy areas if the area is too soft. Typically, we prefer to deliver on cement, pavement, dirt, or gravel. If you require an off-road delivery, this must be discussed with the driver or sales rep beforehand. Please make safety a priority and ensure you have adequate space for delivery. If you are concerned about your site, we can arrange a site visit to ensure that the area meets the requirements to successfully drop off a container.
It is a good idea to place wood blocks (2x4s) or railroad ties underneath the container to lift it up off the ground and away from stagnant water. They will also help level out the container and ensure that the doors line up properly and can open/close smoothly
Container Alliance wants to meet your deadlines and make the delivery as accommodating to you as possible. Give us a call today at (800) 386-2345 and let's discuss your delivery options further. For more information, fill out a quick quote form today!