Order Checklist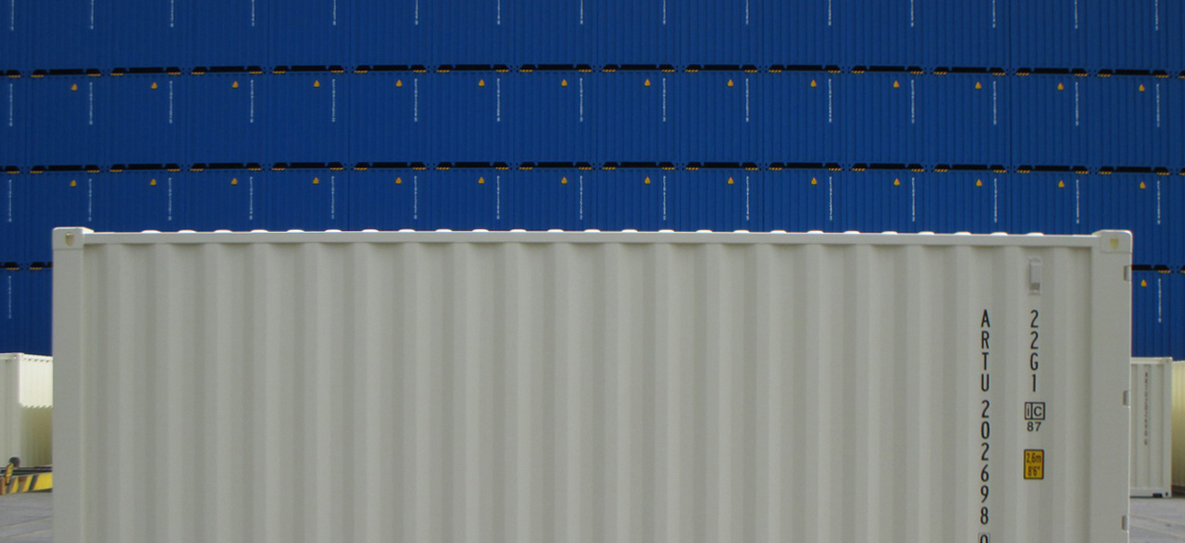 Now that you placed or are ready to place your order, here are a few things to keep in mind to help with figuring out what is the best location on your property, placement of doors, correct operation of the cargo doors and what to expect on the day of delivery.
Space Requirement
"Triple the length of the container ordered" is a good point of measurement for the space required to deliver a container. For example if you order a 20' container we will need 60' in a straight line to be able to back-up, tilt-down and deliver your container to the ground. For a 40' we will need 120' to successfully deliver a container.
Door Direction
Door direction is one of the most important steps and one step people tend to overlook. Once an order is placed your sales representative will ask which way you would like the doors facing when loaded on the truck. A typical delivery is having us back into the location and then driving out from underneath the container. The cargo doors can be facing the REAR of the trailer, which would make them the FIRST thing to touch the ground. Or the other alternative would be the cargo doors facing the CAB of the truck, which would make the doors the LAST thing to touch the ground. Doors loaded to the CAB are most common as the majority of the containers are usually backed up to a wall or fence. Please ensure that you have the correct door direction of the cargo doors when placing the order. If this has to be changed onsite this will delay the delivery window and result in an extra fee.
Delivery Timeframe
At Container Alliance we are striving to deliver your container as quickly as possible. Once the order is placed our Logistics team will work on getting this on our schedule. Typical lead time for delivery is 2-5 business days depending on where you're located. Once scheduled, Logistics will call you to schedule a 3 hour delivery window for a specific day. Why such a wide range in time? This gives our drivers time in case there are any unforeseen traffic delays, accidents or hang-ups at previous deliveries. Logistics will call 24-48 hours in advance to discuss your delivery date and time frame. A driver will not show up without prior confirmation from logistics.
For your day of delivery, our driver will contact you when he is 30-60 minutes out to let you know that he is getting close. Once he arrives, our driver will park and get with you to assess and get a lay of the land. He then will discuss with you exactly where you want the container and his game plan to achieve this goal. From there the process begins with getting the container un-strapped and delivering your container to your requested location. This whole process, once our driver arrives on location, tends to take 30-45 minutes. Any unforeseen delays can result in an extra charge.
Operating the Doors
The ground should be leveled prior to arrival. This will not only result in a smooth and quick delivery but will prevent you from any future problems with the cargo doors opening easily. The main culprit of doors having difficulty opening and closing is the container not being level. Providing a proper base (gravel, concrete, railroad ties) is always a great idea. Our drivers can assist in more precise leveling (within inches) with shims and a corner post jack if given notice in advance. It is also important to keep in mind that containers will settle over time and this will have to be maintained if you are in an area with heavy rain or are loading heavy contents to only one side of the container.
To open your container, you will want to start with the right side first. The locking rods will need to be rotated upwards and then rotate them out and towards you or away from you (depending on the container) so they are perpendicular to the face of the door. This will unlock the locking rods at the top and bottom of the door and allow you to open your container. Repeat on the left side to provide full access. To close the doors, you will need to start with the left side and repeat the steps above in reverse.
Container Health Check
Before the container leaves the yard our team will inspect the container, similar to the "walk-around", and make sure the doors open and close properly before they load it onto our truck for delivery.
At time of delivery you will want to do a "walk-around" with our driver to inspect your container. All used containers, and some new/one-trip containers, will have dents and scratches and tend to form a protective layer of rust. The rust is a natural quality and is due to the atmospheric influence over time. The different grades/conditions of containers will have been explained during the purchasing process by your sales rep. During your "walk-around" you will want to also go inside the container and close the doors to inspect the inside to see if any light is coming in. Also, have our driver show you how to operate the doors.
Over time if left unattended, just like anything else sitting outside in the elements, your container will continue to age. Water will be the main enemy to the container throughout its life and it is important to keep an eye on any problem areas, especially the roof. There are solutions for leaks such as Henry's Roof coating or you can contact Container Alliance for an industrial grade self adhesive patch depending on the size.
Liability
The customer is responsible to confirm that the requested space requirements and a leveled/hard surface are met to make a successful delivery and pick up. A signature for a site release form, releasing Container Alliance from any liability can be requested at any time by the driver. If the customer refuses to sign the waiver, the delivery or pick up will be delayed and a dry run fee will be charged. Our goal is to ensure a safe environment at all times for both the driver and the customer while providing great customer service. Any obstacles or situations that can be an issue should be brought up to the sales representative and logistics prior to arrival.
Rental Pickup
Once you are done with your rental, please allow for adequate timing for us to have your rental picked up. Rental Pickups tend to take 1-2 weeks to get on the schedule depending on your area. For pickups, the container will need to be:
Unlocked - we must be able to check the interior of the container prior to loading on the truck.
Empty - if there are any contents inside the container or on top of the container we will not be able to pick up the container and recurring billing will be continued.
Accessible - Meaning we must have access to the container(s) with our truck. If a forklift or crane was used to reposition the container it must be positioned back to an accessible position prior to pick up, the customer will be responsible for any charges incurred.
Build Quote
Container Alliance is now offering internet pricing.
Simply select your location, size, condition and door configuration to receive a quote instantly online.
For container rental pricing please call 866-870-3615